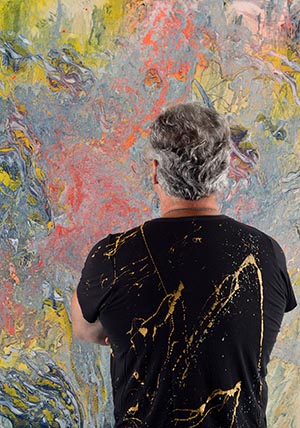 Going against the contemporary art movements with its pictorial nonconformism and peculiar approach... the work of Claude Lessard challenges art by breaking its rules.
Free of intention, its pictorial work constantly seeks to find the energy between the organic and cosmic world.
Somewhat anti-art, visionary and outsider, its spontaneous work finds its place on the dividing line between reality and fantasy, guided by an animist perspective. Lessard knocks over our traditional notions of art and encourages us, through his work, to explore our own conscience.
Seeking absolute, he interacts with the thinking substance through intuitive gestures directed only by the emotional tension of the vibrational moment.
Under the features of abstraction, unfolds the primary driven energy of the artist, presenting on each canvas an incarnate matrix of the liminal space of unconsciousness.
Many hybrids beings hereby emerge and freely appear, emanating from true spontaneity without intention or restraints. Intricate gestures give birth to many presences reminding us of chiaroscuro or exorcism.
His pictorial language arises from the vibrational tension between the subject and the object and through the construction/deconstruction process. He adds and removes coats of paint, applies them with his fingers or improvised palette knifes and smears them with intuitive, spontaneous and emotionally charged gestures.
He primarily uses recycled and natural materials, acrylic, oil or spray paint as well as minerals, crystals and copper. Every material conceals a memory, the trace of someone's or something's experience. The artist thus attempts to release the energy captive of the past by giving it a new, transformed life!
Using the alla prima technique, a sort of human DNA sometimes reveals itself within the painting as if Lessard was recycling a soul… and thereby taking a mystical tangent!
Jocelyne Bellemare
B.Sp.H.de l'art